Balinese News and views editor's comments:

At least 10 dead and many more missing after this morning's devastating 6.4 earthquake that hit off of northern Lombok. Bali's island neighbor to the east.



We are still's feeling aftershocks all the way over here approximately 80 km away.

Our hearts us and prayers go out to all those who suffered as a result of this natural s catastrophe.

All can say is thank God it took place in a very sparsely occupied area.



If it would have hit in a major city there could be hundreds or perhaps thousands of people dead.

Pray for the survivors

Indonesia earthquake: 10 dead, buildings collapsed on tourist island of Lombok.
Early morning magnitude 6.4 earthquake and 11 aftershocks damage buildings on island

Anne Davies @annefdavies

Sun 29 Jul 2018 03.24 BSTLast modified on Sun 29 Jul 2018 04.29 BST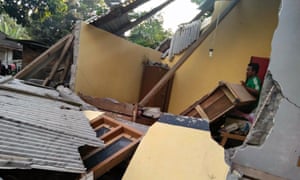 The collapsed ruins of a house following a 6.4-magnitude earthquake on the Indonesian island of Lombok. Photograph: AFP/Getty Images.

Ten people have been killed when a magnitude 6.4 earthquake struck the island of Lombok in Indonesia, a popular tourist destination, authorities have said.

The quake struck at 6.47am local time, and its epicentre was located 50km north-east of the city of Mataram on the island of Lombok, which has a population of 319,000.

Tourists near Senggigi, gateway to the popular Gili Islands resorts, reported strong shocks.

"We jumped out of our beds to avoid anything falling on our heads," said Jean-Paul Volckaert who was woken by the quake in the Puncak hotel.

"We were very surprised as the water in the pools was swaying like a wild sea. There were waves in the pools but only for 20 to 30 seconds," he said, adding that there was no damage to the hotel.

Many buildings were damaged, Indonesia's disaster mitigation agency said.

Indonesia's geophysics and meteorology agency said at least 11 aftershocks were recorded after the earthquake.


The epicentre was 130km north-east of the island's main city of Mataram and was very shallow, which would have amplified its effect.

"So far we have not received any report on damages," agency spokesman Hary Tirto Djatmiko said in a statement. No tsunami alert was issued, he added.

People living near the epicentre felt a strong jolt.

"The earthquake was very strong ... and everybody in my house panicked, we all ran outside," said Zulkifli, a resident of North Lombok, close to the epicentre.

"All my neighbours also ran outside and the electricity was suddenly cut off," he said.

Indonesia, an archipelago of thousands of islands, sits on the so-called Pacific Ring of Fire, a seismic activity hotspot.

It is frequently hit by quakes, most of them harmless. However, the region remains acutely alert to tremors that might trigger tsunamis. In 2004, a tsunami triggered by a magnitude 9.3 undersea earthquake off the coast of Sumatra, in western Indonesia, killed 220,000 people in countries around the Indian Ocean, including 168,000 in Indonesia.

Reyn(@suharja_reynard)

Wake up in the morning with the shaking bed !

Got called from farm and so many facility broke down..#agendafreetv#lombok #earthquake pic.twitter.com/GbANUMLpxWJuly 28, 2018

The latest earthquake was on land and did not trigger any waves or tsunami but authorities issued a yellow alert, suggesting there was a possibility of casualties.

Kasan Mulyono(@2019presidentgb)

More saddening pictures have emerged from many East Lombok villages following earthquakes. pic.twitter.com/0gx4EdVNOnJuly 29, 2018


A 6.4 magnitude is strong enough to cause injuries and damage to buildings, but largely depends on how densely populated the affected area is.

In February, an earthquake of that strength hit Taiwan, killing 17 people and injuring hundreds more.

In 2016, 1.248 million Australians visited Indonesia. Bali was the main destination, but Lombok has become increasingly popular.


The Department of Foreign Affairs and Trade has been contacted about whether there are any reports of of Australian casualties



Since you're here…

… we have a small favour to ask. More people are reading the Guardian than ever but advertising revenues across the media are falling fast. And unlike many news organisations, we haven't put up a paywall – we want to keep our journalism as open as we can. So you can see why we need to ask for your help. The Guardian's independent, investigative journalism takes a lot of time, money and hard work to produce. But we do it because we believe our perspective matters – because it might well be your perspective, too.

The Guardian has brought a number of vital stories to public attention; from Cambridge Analytica, to the Windrush scandal to the Paradise Papers. Our investigative reporting uncovers unethical behaviour and social injustice, that helps to hold governments, companies and individuals to account. This work is costly – often we can't anticipate how a story will unfold, how long it might take to uncover, and whether we will face legal threats that attempt to stop us. But we remain committed to challenging and exposing wrongdoing where we think it is critical – through this we can, together, create meaningful change in the world.

If everyone who reads our reporting, who likes it, helps to support it, our future would be much more secure. For as little as £1, you can support the Guardian – and it only takes a minute. Thank you.
Three confirmed dead in powerful Lombok earthquake
Share Tweet Share




A woman stands near an injured person outside of a hospital after an earthquake hit Sembalun Selong village in Lombok Timur, Indonesia, July 29, 2018. Antara Foto/Zakir/via REUTERS

By AFP - July 29, 2018 @ 10:13am

JAKARTA: At least three people were killed after a shallow 6.4-magnitude earthquake struck the Indonesian island of Lombok on Sunday, officials said.

The powerful quake, whose epicentre was at a depth of seven kilometres, hit at 6.47am local time (2247 GMT Saturday), the United States Geological Survey said.

Lombok in southeastern Indonesia is a popular tourist destination, and lies around 100km east of the resort island of Bali.

The quake struck 50km northeast of Lombok's main city Mataram, the USGS said, far from the main tourist spots on the south and west of the island.

"One person died in East Lombok and two died in North Lombok," Sutopo Purwo Nugroho, a spokesman for Indonesia's disaster mitigation agency, said in a statement.

No details were provided on how the victims died.

At least two dozen others were injured in the earthquake, and one house was badly damaged in North Lombok.

Island authorities have temporarily closed the hiking trails on Mount Rinjani amid fears of landslides after the quake, Nugroho said.

No tsunami alert was issued, said Hary Tirto Djatmiko, spokesman for Indonesia's geophysics and meteorology agency, but more than 40 aftershocks were recorded.

People living near the epicentre said they felt a strong jolt.

"The earthquake was very strong... and everybody in my house panicked, we all ran outside," said Zulkifli, a resident of North Lombok, close to the epicentre.

"All my neighbours also ran outside and the electricity was suddenly cut off," he told AFP.

Indonesia, an archipelago of thousands of islands, sits on the so-called Pacific Ring of Fire, a seismic activity hotspot.

It is frequently hit by quakes, most of them harmless. However, the region remains acutely alert to tremors that might trigger tsunamis.

In 2004, a tsunami triggered by a magnitude 9.3 undersea earthquake off the coast of Sumatra, in western Indonesia, killed 220,000 people in countries around the Indian Ocean, including 168,000 in Indonesia. --AFP