No good can come of steel and aluminum tariffs.By
Editorial Board
February 28, 2018, 7:00 AM GMT+8
From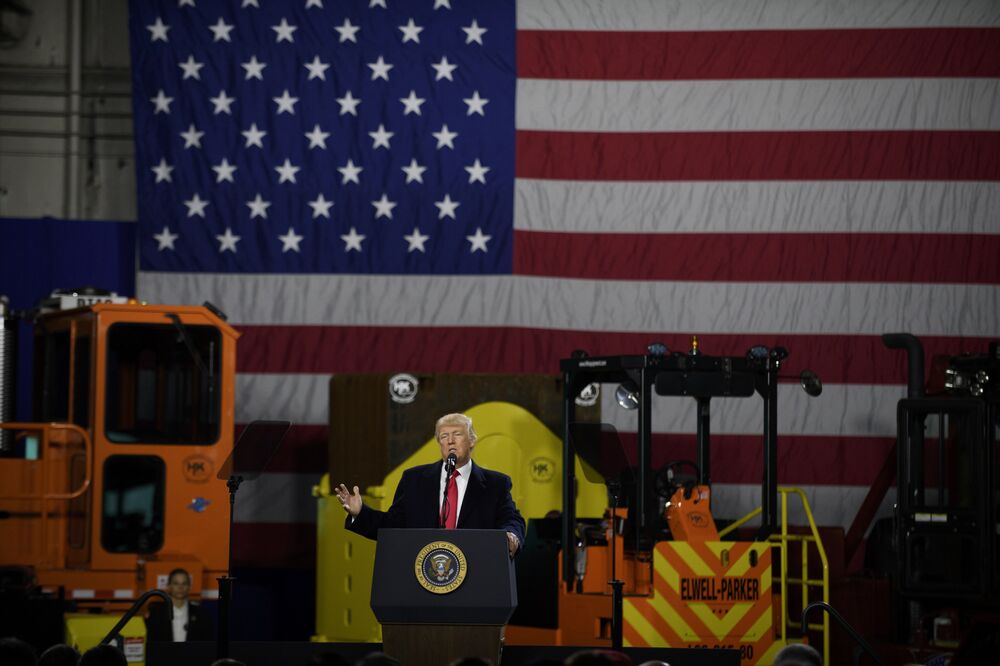 Not helping. PHOTOGRAPHER: JEFF SWENSEN/GETTY IMAGES


Does anyone, anywhere, support President Donald Trump's plan to impose tariffs on steel and aluminum imports?



As Bloomberg News recently reported, Trump is considering broad duties of as much as 24 percent on imported steel and 10 percent on aluminum, with the aim of protecting national security and pressuring China to reform its trade practices.

This is a terrible way to achieve either ambition. The likely outcome would be to raise prices, hinder growth, jeopardize jobs, burden taxpayers, encourage retaliation, and heedlessly destabilize the system of global trade. Not to be alarmist, but it could even raise the cost of beer.

The idea is so comprehensively misguided that it has induced a rare consensus in Washington. Most of Trump's cabinet opposes the idea, as does nearly every mainstream economist. Farm groups call it a "short-sighted mistake." Manufacturers call it "disastrous." Trump's own Economic Report of the President, which he has no doubt read carefully, warns that such barriers could "distort the free allocation of capital."


Surely steelmakers, at the very least, would be grateful for this added protection? Not so fast: Many producers are worried about the inflation, input shortages and supplier disruptions that could result, just as the industry's prospects are otherwise improving and a big infrastructure push is on the way. (Tariffs would only raise the cost of that worthy endeavor.)

Nor does the Pentagon think much of the national-security rationale. Total military demand for steel and aluminum amounts to only about 3 percent of domestic production, meaning that reliance on imports isn't a notable danger. Imposing broad tariffs, however, could have a "negative impact on our key allies," as Trump's defense secretary delicately put it.

China, meanwhile, won't be much affected by these measures. It's already subject to more than two dozen antidumping and countervailing duties on basic steel products, and hence provides less than 3 percent of total U.S. imports. About the only practical effect of broad new tariffs would be to invite retaliation on American exporters.

None of this is unfamiliar; none of it should be controversial. For decades, the U.S. government has tried now and then to protect the steel industry -- and those efforts have consistently harmed consumers, undermined manufacturers, inhibited growth and impeded innovation, all without obvious benefits. The most recent such initiative -- the so-called safeguards imposed by the George W. Bush administration in 2002 -- raised costs and destroyed roughly 200,000 jobs.


There's a better way. A different trade dispute has caught Trump's attention -- concerning intellectual property, and China's approach to transfers of corporate technology. On this issue, the administration is reportedly working with allies to jointly pressure China at the World Trade Organization. This is exactly the right approach: orderly, above board, and intended to minimize conflict. Given time, it may well work.

The same cannot be said for the president's tariffs. If he proceeds with this idea, he'll be harming the economy, not helping it.
Best Asia Real Estate Editors Comments:
This will add significantly to Inflation in America which will hurt the average American.
Inflation can be your friend or your enemy depending on where you put your money.
Tangible investments such as Real Estate, Precious and semi precious metals, Diamonds, precious stones, Art, Antiques and rare coins will all rise.
Very bad move by trump Instead of making America com

petitive he has started a trade war.
I predicted much higher inflation in 2018 . Now it is happening.
2018-1-1 Predictions for 2018
Lawrence B. M. Bellefontaine has been making Asian and World economic and investment predictions with uncanny accuracy for the past 37 years.
Chinese Tourist Prediction:
In 2008, while speaking on behalf of the Indonesian government at a huge conference for 200 Chinese travel agents in Beijing he predicted that, "Chinese tourists would be the number one tourist to Bali". At the time they were 18th.
His fellow hoteliers and travel agents laughed at this prediction. The Indonesian tourist bureau scolded him for making such a prediction.
In 2017 that prediction came true.
"Chinese tourists would be the number one tourist to Bali"
Bellefontaine, Bejing, 2008
Bellefontaine speaking to 200 Travel Agents in Beijing 2008
Bali Real Estate Crash Prediction:
In 2014 after Bali never having a real estate downturn in modern history he shocked most of his huge following on his Bali News & Views Blog when he predicted the worst downturn in history after a government minister warned foreign investors, who were utilizing nominee agreements, a grey area of law, that they were illegal.
Since 2014 Bali real estate prices have dropped as much is 50%.
Singapore Real Estate Crash:
In the same year he predicted that Singapore real estate prices, which had soared with unconscious Chinese buying over several decades was about to end and that a real estate downturn had begun.
Since then Singaporean real estate has had almost four years of consistent downturn.